Things to Do in Cape San Blas
Things to do in Cape San Blas
Beach Day

Beach/water toys, Chairs and Umbrellas are all you need.
Beach Scavenger Hunt - See image below and here is a link to download a PDF.
Public access to the beach is available by the rocks, Cape Palms Park, Dunes Dr or inside the State Park.

Get out on the water in St Joseph Bay

Kayak, Stand up paddle boards, Canoe or pontoon boat
Public access points to the bay are across from the rocks or inside the state park.

Fishing

Fish from the beach or away from the shore. Always a good time.
Scallop Cove Bait and Tackle (4310 Cape San Blas Rd) have all your fishing needs and advice.

Snorkeling

Grab some gear, dive flag and walk out in the bay or beach
To read how to snorkel click here.

Crabbing

On the beach at sunset to see ghost crabs
Use a crab cage for lots of crabs

Scalloping (during open season)

Find the open season dates here.
Use snorkel equipment and go to 2-6 ft deep water around grassy areas.
Most people find it easier to find by boat or kayak to get to deeper water.
See our scalloping page for more info.

St Joseph Peninsula State Park

Boat Ramp
Rent Kayak, Stand up paddle boards or Canoe
Rent Pontoon Boats
Hiking trails
Camping *coming soon*

Loggerhead Run Bike Path

Eight mile trail on Cape San Blas that runs from St. Joseph Peninsula State Park to Salinas Park along Hwy 30E/Cape San Blas Road.
Remember, per the city, no golf carts are allowed on the path.
Come see Scallop Cove for bike rentals

Cape San Blas Lighthouse

Park by the rocks on CSB and walk about a half mile on the beach to see the old location. Find the cement footings and look for bald eagles.
Go to Port St Joe in George Core Park to see where the lighthouse currently stands.
History of it here: http://www.capesanblaslight.org/ 

St. Joseph Bay State Buffer Preserve Center

Second Friday of the month, they offer tram tours. Must make reservations.
The trails are available to hiking, biking, horseback riding, bird watching, photography and nature study.
Located at 3915 County Rd 30A, Port St Joe, FL 32456

Forgotten Coast Sea Turtle Center

Find them on Facebook for their latest events and hours.
Located at

1001 10th Street, Port St Joe FL 32456

Open Tuesday through Thursday and Sunday from 12 p.m. - 4 p.m. ET.

Bird Watching

Season is from Fall to Spring. So many birds flock to our area, so keep an open eye. There are typically bald eagles by the rocks.
Find the facebook group "Birding Port st joe" for more info.

Salinas Park

Beach or Bay side access. Playgrounds, pickleball courts, volleyball courts, picnic area, BBQ and more!

Cape Palms Park

Public access to the beach with shaded picnic area.
Restrooms and showers.

Plenty of parking

Visit the Point of the Cape

This is where the "Donna Kay" was located
Harder pack sand, perfect for walking
Find the palm trees with shells hanging on them and add another!
***These ideas below are not numbered on the map as they are not in a specific location.***
Take a Selfie!
Scallop Cove Big Beach Chair
Cape Palms Park pearl mural, plus 3 other murals in Gulf County
Turtle Trail sculptures
Turtle Trail
There are 8 turtle sculptures hidden around Cape San Blas and Port St Joe. Go find them all and take a picture!
If you find and take a picture with six turtle statues, post to social media and use the hashtags #InGulf & #TurtleTrail, you can then stop by the Gulf County Welcome Center to claim a free metal straw.
Geo-caching
We've started hiding caches around the Cape under our new store account. Check out geocaching.com for details. Our user name is Scallop_Cove.
Disc Golf
Boat the Intercoastal
If you have your own boat, go up into the intercoastal. You'll find alligators, beautiful scenery, fish and so much more.
Horseback riding on the beach
There are a few companies that offer horseback riding on the beach. Perfection at sunset!
Watch for Dolphins
Beach - Usually on a calm day you'll see dolphins swimming up and down the beach. Watch for them carefully and you'll see them jump in and out of water.
Bay - You will find dolphins in our bay as well. They can play in the boats wake or along side the boat in the waves.
Eat Sweets! 
What is a beach day without ice-cream? Scallop Cove has Blue Bell and can do waffle cones, cake cones, sugar cones, bowls or take home a pint or half gallon to share. Follow us on social for flavor of the week!
Cinnamon Rolls
Key Lime Pies - Big and mini's
Donuts - Scallop Cove makes yeast donuts every morning! We will happily make you a fresh batch anytime! We offer chocolate, glazed, cinnamon sugar and apple fritters.
Pastries
Cookies
Bagels
William J "Billy Joe" Rish State Park
100-acre park provides an opportunity to explore the beach, the bay and the natural resources between.

Cabins and Pool coming soon!

This recreation area has been designated to provide recreational opportunities for people with disabilities, their families and their caregivers.

Click here for more info.
Golfing
St Joe Bay Golf Club: 18-hole golf conveniently located in between Port St. Joe and Cape San Blas. Great dining there too!
St James Bay Golf Club - Its about an hour drive from CSB, but heard its a challenging and nice course.
Shark Fishing
The saying goes, if there is salt in the water, there are sharks, Luckily they are just as scared of us as we are of them,

Personally I leave the shark fishing to the experts and let them take take you out! They have all the right tools and experience.

Stop by Scallop Cove Bait and Tackle and we will get your connected with a guide.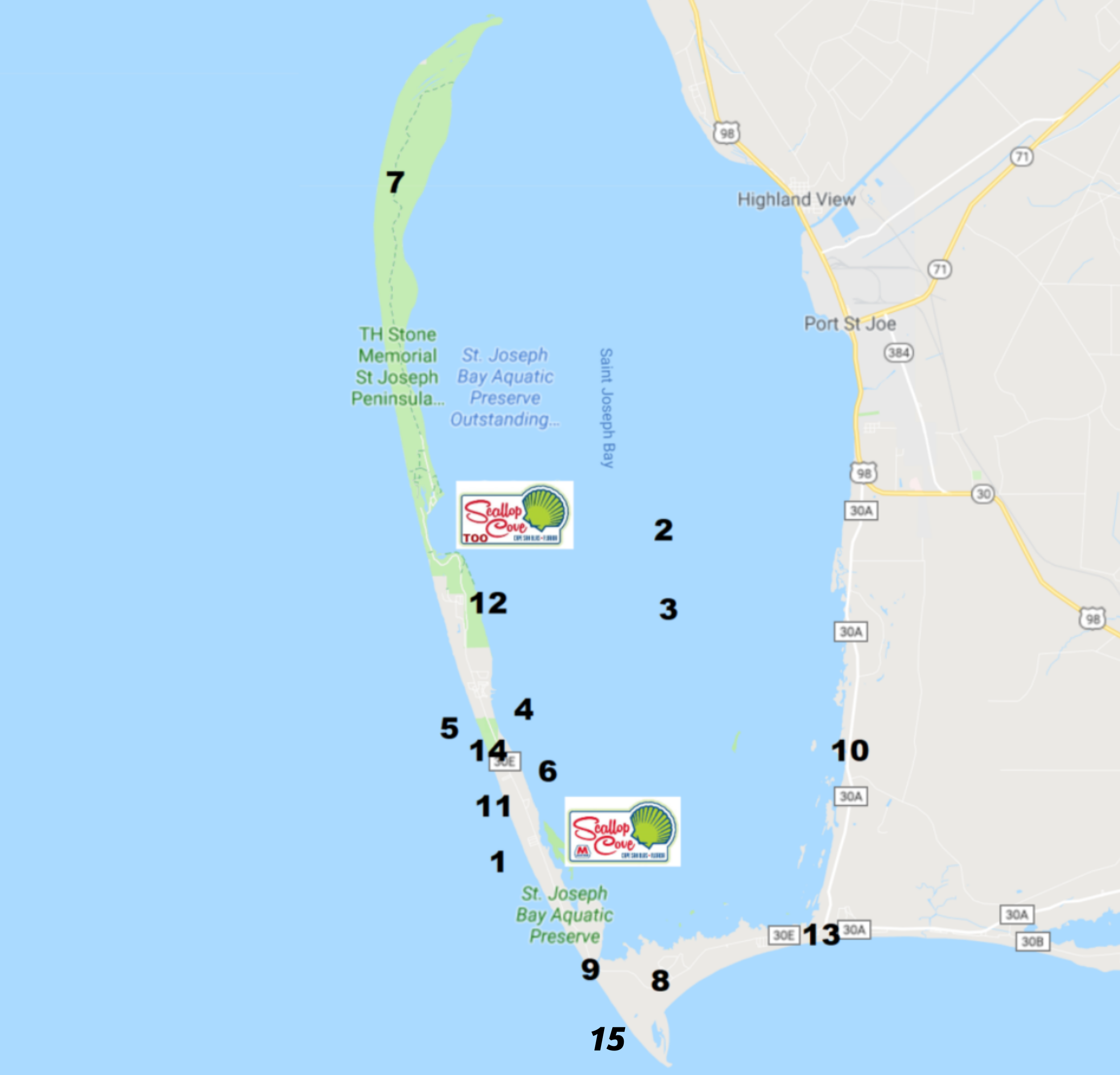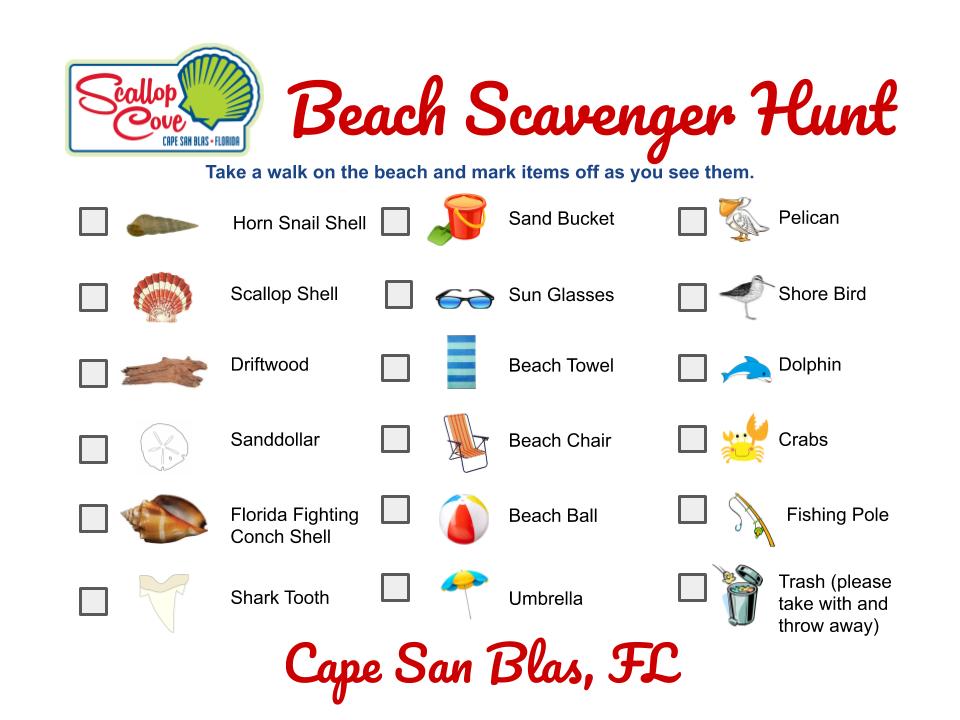 Need to Rent something to enjoy our area?
Check out everything we have to offer to rent.